Ticket price includes: All Day/Night Entry, Free Parking & Camping.
You can also bring your own alcohol (NO GLASS) or purchase 3 cans for £5 at the licensed bar on site. Shots offers & Jager Bombs £3.50. (Please try to use the bins because it does get a bit like tin can city later into the night and it's not very pleasant.)
More performers may be added to the line up in the the run up to the event so keep your eyes on the Party In The Pines Facebook Page.
EXPECTED TO SELL OUT TO CAPACITY VERY SOON!!!
Main Stage
The Enemy
Main Support from : Dirty Sterling
The Swiines / The Jackobins / The Barmines / John McCullagh & The Esscorts / The Marras / Liberty Ship / Scarlett & Saffron / The Assist
---
Alternative Stage
Main Support from : Stop Drop Robot
One Under / Bang Bang Romeo / Native Braves / Ruby Tuesday / Southpaw / The Rusbies/ Years Young
---
Acoustic Tent :
JONNY BROWN (Twisted Wheel)
Main Support from : Ramble Gamble
The Broken Rebels / Lee Gower / Morning Pilgrims / Rick Emsley / Danny Ansell / Lazy Eye / The Summits / Connor Dunk / Twisted Revolution / Daniel Senior / Tyler Bennett / Jay Cressey / Joe Solo
---
DJ SET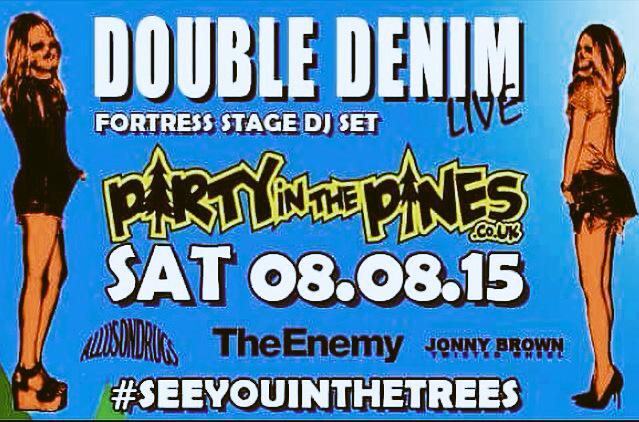 (Early birds SOLD OUT, only full price tickets remain £25) 
(Line up could be subject to minor support changes)
Please note: Scunthorpe Nights are NOT the organisers of the Party in the Pines festival. Any questions should be directed to their web
site. All ticket purchases to be made through the Pines website or can be obtained physically from Cafe INDIEpendent on Scunthorpe High street.
WHERE IS PARTY IN THE PINES
Follow Ermine Street between Broughton & Appleby and look out for the direction signs.